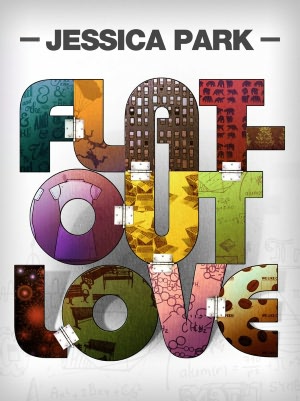 Flat-Out Love is a warm and witty novel of family love and dysfunction, deep heartache and raw vulnerability, with a bit of mystery and one whopping, knock-you-to-your-knees romance.
Something is seriously off in the Watkins home. And Julie Seagle, college freshman, small-town Ohio transplant, and the newest resident of this Boston house, is determined to get to the bottom of it.
When Julie's off-campus housing falls through, her mother's old college roommate, Erin Watkins, invites her to move in. The parents, Erin and Roger, are welcoming, but emotionally distant and academically driven to eccentric extremes. The middle child, Matt, is an MIT tech geek with a sweet side … and the social skills of a spool of USB cable. The youngest, Celeste, is a frighteningly bright but freakishly fastidious 13-year-old who hauls around a life-sized cardboard cutout of her oldest brother almost everywhere she goes.
And there's that oldest brother, Finn: funny, gorgeous, smart, sensitive, almost emotionally available. Geographically? Definitely unavailable. That's because Finn is traveling the world and surfacing only for random Facebook chats, e-mails, and status updates. Before long, through late-night exchanges of disembodied text, he begins to stir something tender and silly and maybe even a little bit sexy in Julie's suddenly lonesome soul.
To Julie, the emotionally scrambled members of the Watkins family add up to something that … well … doesn't quite add up. Not until she forces a buried secret to the surface, eliciting a dramatic confrontation that threatens to tear the fragile Watkins family apart, does she get her answer.
Flat-Out Love comes complete with emails, Facebook status updates, and instant messages.
I passed this book up a few times and I'm not too sure why I did, but purchasing this book was totally worth it and I'm only sorry I didn't read it sooner.  The writing in this book is stellar beyond stellar and it made laugh and cry and no, not at the same time.
This book is so incredibly well written, unique in every sense and the lingering mystery throughout the story kept me guessing the entire time.  It's a story about self-discovery, heartache and love and it moved me unlike any other books I've read. Jessica Parker tackles very real-life topics and she writes it in a way that's raw and filled with depth that it was hard not to feel each emotion the book evoked in me. It's not your typical romance, in the sense that it's not hot and steamy or in your face but yet, it's incredibly intimate.
There were times when Julie drove me a bit crazy but I loved the way she involved herself in the Watkins family drama.  Who doesn't love a lot of drama??  And the quirky banter between Julie and Matt had me laughing out loud several times, a bit too loud in a place where I shouldn't have been laughing at all!
My favorite character in the book is Matt Watkins.  He's geeky, witty and incredibly smart and who doesn't love a man with big…(ahem)…big brains!!  Ha!  Ladies, your mind is a very dirty place!!!  I was talking about his brains!!!
Julie turned her head to Matt.  "You're a double major?  Physics and math? Jesus…"
"I know.  Nerdy.  He shrugged.
"No, I'm impressed.  I'm just surprised your brains fit in your head."
That's a small taste of the kind of writing you can expect to see in the book and it will not disappoint!!
Flat out Love gave me that wonderful hung-over feeling.  Hung-over feeling you ask??  I love when a book is so good that I can't stop reading it and before I know it, it's 3am in the morning!!  WOW.  Alarm goes off at 6:30am and BAM, suddenly I feel as though I've had too many cocktails the night before.  But cocktails didn't cause that feeling, an amazing book did!
Did I happen to mention how much I love this book?