I'd like to tell ya'll a little anecdote about this book that everyone else has seemed to read but me.
I am one to mark my calendars and relentlessly stalk my bookstore so they can acquire the book I want so I can read it on its release date. However I couldn't purchase this book on its publication date, much less on that same week. This book is the last book of a very popular trilogy and it was an extremely anticipated book.
Imagine my despair when absolutely EVERY.SINGLE.ONE. of my Goodreads friends were reading this book; on the publication date for Christ sake! I had to avoid Facebook, Twitter, & Goodreads for a MONTH until all the hype surrounding this book died down. However that didn't stop my few real-life bookworm friends from gushing and discussing this book's ending. As much as I said, "I haven't read it" they seemed to believe this was invitation to spoil and basically taunt me for not reading it.
I could barely even go into Tumblr or Instagram because people were either ranting or gushing about the book. It was hell those weeks. I learned everything that happened in the book without actually having to read it, and my motivation for reading it just basically went down the drain. Now I have the book on my bookshelf, and it's the last book I'd pick up to read right now.
Basically this whole little story was about my experience when everyone else seems to have read a book you wanted to read.
I could make a whole list with times this has happened to me (I can't buy books as I please! I try to exert some self-control), and it was pretty 1- uncomfortable & 2- irritating.
To save y'all from my same fate, I've come up with some tips to overcome this problem:
Ignore any and all reviews of said book you're waiting on.
Buy (or borrow from Library) book as soon as possible.
Read it as soon as it's in your hands
After finishing the book, try not to spoil it for others who may be in the situation you were in.
Repeat.
If you can't acquire the book for any reason, then your best bet is to train yourself to ignore spoilers at any cost. You see a spoiler? Leave the page, turn off the screen, don't listen to the inconsiderate people talking about it.
There's always going to be a book that everyone else has read, you just have to remember that you've probably read a book that someone hasn't. Let's just try to be considerate with everybody, huh?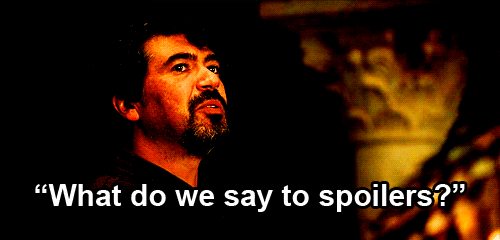 Have you ever experienced something like this? When you're over the moon excited for reading a book but then everyone else reads it before you and spoils or influences you in some way?